FreeSpace® DS 16S and DS 16SE Loudspeakers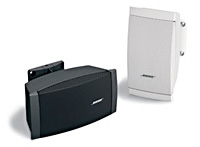 The FreeSpace
®
DS 16S and DS 16SE loudspeakers enhance the guest experience in commercial environments by providing background music solutions with clarity and presence. These surface-mount loudspeakers are designed for a wide range of commercial applications including retail, restaurant and hospitality establishments.
These 16-watt loudspeakers provide coverage both indoors (DS 16S) and outdoors (DS 16SE). The FreeSpace DS 16S and DS 16SE loudspeakers are engineered for installation on walls or other solid surfaces using a simple
產品訊息
ControlSpace® ESP-88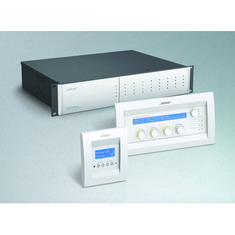 The power to connect. The simplicity to control ControlSpace® ESP-88 systems offer a new approach to meet the needs of sound contractors and system users. These systems deliver powerful, flexible, sophisticated signal processing with elegant user controls that promote user confidence in daily system operation.
The Bose® ControlSpace ESP-88 engineered sound processor is a flexible, expandable and high quality audio signal processor for engineered sound applications such as churches, theaters, auditoriums and sports venues. The base model (ESP-88) includes eight inputs (microphone or line-level selectable) and eight line-level outputs. Four available audio slots allow the addition of up to 16 more analog audio channels—inputs, outputs or a combination—or up to 32 more digital audio channels (AES3) as inputs, outputs or a combination. For large applications, multiple ESP-88s can be used per system. Multiple choices of user controllers are available to provide end users with simple, easy-to-use control of their ControlSpace system. 產品訊息
PANARAY 802®III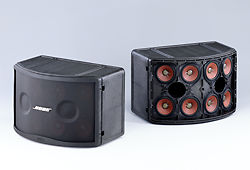 This hallmark Bose® professional loudspeaker has been re-engineered for better performance, versatility and durability. Eight proprietary 4.5-inch (11.4 cm) full-range drivers and active EQ help deliver vocals and instruments with smoothness and warmth-at high or low SPL.
A proprietary Articulated Array® speaker configuration reproduces clear, natural sound and reduces acoustical dead spots with even coverage over a wide listening area. Their efficient size reduces obstructed views so the audience can see more of the event and less of the speakers.
Panaray® 802® loudspeakers transducers withstand harsh conditions like snow, sleet, rain, severe cold, high heat and humidity. Their weather-resistant design provides reliable performance, indoors and outdoors
產品訊息
Panaray® MB4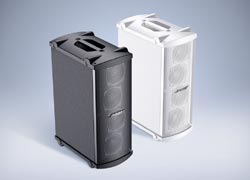 The 200-watt Panaray® MB4 modular bass loudspeaker delivers performance, convenience and flexibility for low-frequency sound reinforcement applications. Its output, bandwidth and size make it valuable as a single unit or as a building block to extend the low-end response for your professional systems. The Panaray MB-4 can be used in permanent installations or as a portable element for DJs and live sound reinforcement.
With a frequency response of 40Hz-300Hz, the MB4 can easily be matched with other Bose® professional loudspeakers. Its small size and modular design make it useful as a single bass unit, or as a modular building block to match other Bose professional products. It can be configured in either endfire or broadside bass arrays.
產品訊息
Panaray® MA12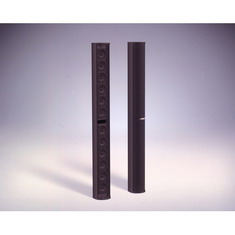 This 300W loudspeaker is designed for use in single and multiple configurations in permanently-installed indoor applications. The slim profile of the Panaray® MA12 speaker adds an attractive design element to any installation.
The Panaray® MA12 loudspeaker delivers high speech intelligibility and natural sounding music in some of the most acoustically demanding spaces-with little or no acoustic treatment. A vertical line array of twelve 2.25-inch (6.4 cm) drivers provides wide horizontal and narrow vertical pattern control. Bose® MA12 loudspeakers reproduce the entire critical vocal range (155Hz-12kHz) with no crossover required. As a result, this loudspeaker is surprisingly efficient, delivering speech with intelligibility and clarity.
產品訊息
FreeSpace® DXA 2120 Digital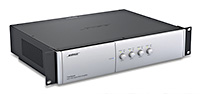 The FreeSpace® DXA 2120 digital mixer/amplifier provides signal processing, mixing, routing, paging and two-channel amplification all in one component for commercial applications such as conference spaces, retail stores, hotels and restaurants.
The DXA 2120 digital mixer/amplifier offers three versatile operating modes. Host small events easily with up to four microphone inputs or music sources in mixer mode. Use dual mono select mode to create one or two listening environments in your facility—each with two separate program sources. For spaces where stereo music is part of the environment, the stereo select mode lets you create a single zone with two selectable program sources. Each operating mode is easily configured using the controls on the front panel, no external computer is required. Two wall-mounted user interfaces provide volume control or volume control with dual source selection.
產品訊息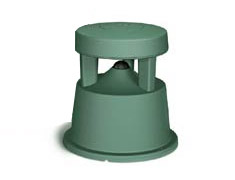 The FreeSpace® Model 360P loudspeaker is designed to blend into environments such as outdoor dining areas, resort pool areas, hotel atriums, themed parks and retail venues. Its innovative design provides 360° coverage, so fewer loudspeakers are needed than with many conventional ground or surface mounted loudspeakers. Proprietary speaker technology helps ensure music is heard with depth and fullness.
The FreeSpace Model 360P loudspeaker is engineered with a heavy-duty enclosure and an advanced composite driver. It will withstand sand, snow, rain, salt and temperature extremes of 158°F (70°C) to -40"F 產品訊息
L1 Model II System

Imagine powerful, high quality sound at every performance. Imagine every detail sounding present and clear. Clear to you, clear to your fellow musicians, clear to your audience. Now imagine a system that brings this level of clarity to every performance and sets up in minutes.
The award-winning new approach to live sound projects sound across the stage and throughout the audience with very little change in tone or level. From the musicians on stage to the audience members in the back of the room, everyone can now enjoy nearly the same high-quality sound.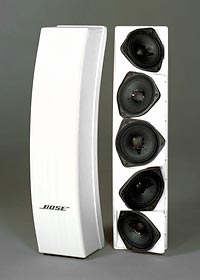 This Bose® loudspeaker is engineered to provide high-quality sound for permanent installations. Its compact size and design set an industry standard, making the 502® A loudspeaker a favorite among architects and visual merchandisers. It is well-suited for venues where aesthetics and audience sight lines are important, such as houses of worship, auditoriums, theaters, airports, gymnasiums and mall atriums.
Behind each grille are five 4.5-inch (11.4 cm) full-range drivers in a patented array. This allows for more controlled horizontal and vertical coverage patterns, making the Panaray® 502® A loudspeaker an excellent choice for speech and light music applications. It can be matched with the 502 B Acoustimass® bass speaker for full frequency sound reinforcement, or used separately for voice-only systems.
產品訊息
FreeSpace ® 3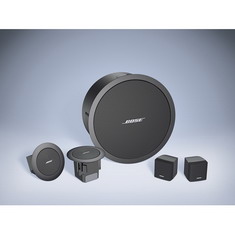 This high-performance, Virtually Invisible® loudspeaker system is engineered for reproducing voice and music in background and foreground applications. The FreeSpace® 3 system combines flush-mount, surface-mount and pendant-mount speakers to work with different room decors and layouts. It is designed for a variety of business applications including retail, restaurant and hospitality operations.
The Acoustimass® bass module delivers deep, clear bass without audible distortion. The 200W Acoustimass bass module can be used as part of any new background music system, or to add bass to an existing music system.
產品訊息
Panaray® LT 9702® Loudspeaker
The Bose® Panaray® LT 9702® loudspeaker is a mid/high-frequency component of the Panaray LT system. It can be used in either a passive 2-way or bi-amplified configuration. Nominal horizontal beam width is 90 degrees and nominal vertical beam width is 70 degrees.
This loudspeaker offers our widest horizontal dispersion, so it's well-suited for delivering sound to seating areas near stadium and arena playing areas, as well as raked seating areas in medium and large houses of worship. 產品訊息